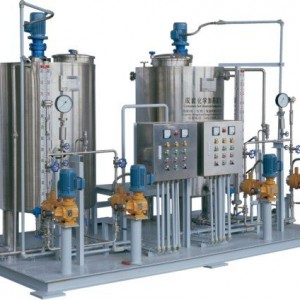 Chemical Injection Skid
Chemical Injection Systems supplied are independent of pump manufacturers therefore Siva & Associates Inc.  is able to integrate any preferred pump supplier into the overall integrated system. Siva & Associates Inc.  has worked closely with our Supply Chain to ensure that components proposed have been specifically designed and tested to meet the exacting standards our customers require for a reliable and efficient system.
Systems supplied by Siva & Associates Inc.  are suitable to the Petrochemical and Process industries. Siva & Associates Inc. has designed and manufactured systems for a number of chemical injection applications such as,
Corrosion Inhibitors
Scale Inhibitors
Demulsifiers
Glycol
Wax Inhibitors
MEG Injection
Chemical Injection Pump Systems
Pump systems can be single injection outputs or multiple outlets
including multi-chemical systems. We provide a complete system
design and fabrication service and typically each system will contain:
Chemical Dosing/Injection Pump, typically designed with a double diaphragm for increased reliability and safety. Siva & Associates Inc. is fully independent from any Chemical Injection Pump suppliers and therefore are able to integrate the most suitable pump for the application.
Chemical Storage Tanks, fabricated from 316 Stainless Steel or similar, designed in accordance with client requirements and/or internal design calculations.
Pulsation Dampening
Injection Rate Control Devices (IRCD's)
Injection Rate/Flow Meter
Isolation Valves, either remote or local
Pressure Monitoring Instrumentation, either remote or local
Safety Devices to protect against over pressurization